To, Dear Pakistan!
.The 80th Pakistan resolution day is a reminder for us, a lesson during the covid19 outbreak.
Never before, has our nation witnessed such devastation, but let us not forget, there is still HOPE.
Our leaders poured their blood, sweat and tears into this land that we call ours. The land sought in the name of Islam.
The land that is currently seized by doubt, fear and insecurity.
But fret not, for the day will come, when we will rise from this disaster very soon.
My dearest Pakistani, you are the support of your fathers, you are the hope of your mothers, you are the pride of your sisters, you are the dream of the youngsters, you are the hero of your children and most importantly, you are the answer to the prayers of many.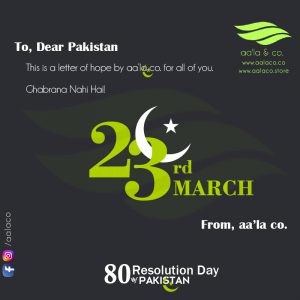 On this resolution day. We are on a page full of uncertainty, tears, hopes, ambitions & God Consciousness.
You Armed Forces, you Doctors, you Islamic Scholars, you Farmers, you Police, you Healthcare, You Teachers, You Businessmen/women, you other departments, you politicians, you Engineers, you PhD's, You Trans-genders, You Christians, You Hindus, You Sikh, you Students, you Young Blood, you flowers of our gardens and our backbone our Mothers of Pakistan who stay at home and build nations
My message is for you to never give up, no matter what the situation is.
Our country will fight against every evil force and every evil virus. We are One Nation stands side by side of each other.
80th Pakistan Day is the sign of hope and dependency upon One God, Who is the creator of everything. We are submissive towards him and He alone will make us free from this critical situation. InShaAllah.
Ghabrana Nahi hai.
Pakistan Zindabad
from: Aa'la & Co.
Fasiha Khan
#pakistanday #23march2020
#aalaco #covid19pakistan #ghabrananahihai #hope #onegod_onereason #Allahumustaan